Mapping Hubs of Demand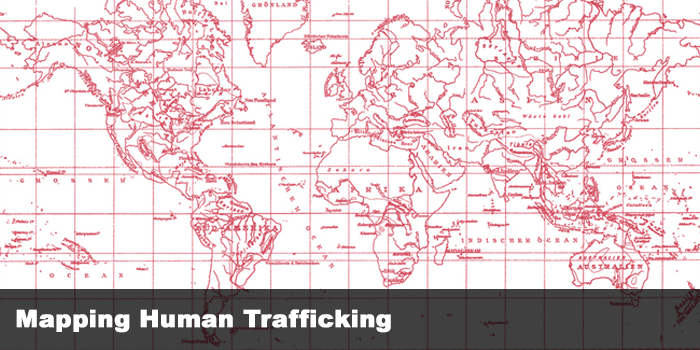 Global Centurion has created a set of maps identifying major hubs of demand for sex trafficking and labor trafficking around the world. The purpose of these maps is to assist in understanding what drives the trade in human beings worldwide. Most current information on human trafficking focuses on the victims, including the number of victims, their age, their nationality, and the harms they have suffered.
These maps focus for the first time on the end buyer/user/exploiter and provide viewers with a global look at the various types of demand. For example, in sex trafficking, major demand hubs are created by sporting events such as the Super Bowl or World Cup; U.S. and other military presence or other R & R in economically or politically unstable countries; and sex tourism and child sex tourism, and more. In labor trafficking, any product that is labor intensive (i.e., requires many human beings to produce) has the potential for creating conditions of demand for labor trafficking and slavery. These include garment worker factories; agricultural work; construction work, mining of diamonds, gold, coltan and other valuable minerals; domestic workers, and more. This project is on-going: other hubs of demand are added to the maps as they are identified and documented.
14 Key Hubs of Demand
1. Super Bowl & Sporting Events Spur Demand Across North America
From scantily clad cheerleaders to groupies to VIP parties, sex and sports are linked in contemporary society. With no wives or girlfriends in sight, the adrenaline and alcohol fueled fans has the potential to create a concentrated demand for commercial sex. Unfortunately, this demand is sometimes being met by trafficked persons. Some of these victims will be underage as young as 11 who have been trafficked into prostitution, as well as other young women who have become ensnared in sexual servitude for a variety of reasons. A case in point: earlier this year in Florida, a number of arrests were made on charges of sex trafficking. In one case a Hawaiian man was caught trafficking an 11 year-old-child. As more cases are uncovered, the correlation between commercial sex trafficking and major sporting events is being documented. Read More >>
2. Las Vegas, Nevada & Legalized Prostitution
Contrary to what many people think, prostitution is not legal in Las Vegas but the What happens in Vegas, stays in Vegas media campaign and attitude has led tourists to believe that they can purchase commercial sex or engage in sex tourism without arrest or punishment. Unfortunately, Las Vegas, often referred to as Sin City, attracts a large number of runaway teens, as well as pimps, and johns. With the constant demand for commercial sex, it is no surprise that Las Vegas is considered one of the top ten human trafficking locations in the world.
Nevada is the only state in the United States that has legalized prostitution. However, the industry is heavily regulated by state and local government. State law prohibits prostitution in counties where the population is over 400,000, such as Clark County, which includes the city of Las Vegas. In spite of the law prohibiting prostitution in Las Vegas, prostitution is widespread there. In 2003, Carson City, Douglas, Washoe and Lincoln Counties banned prostitution. Currently there are between 25 and 30 licensed brothels in the State of Nevada. Read More >>
3. Mexico
Mexico is a country of origin, transit and destination for trafficking victims. However, a large number of Mexican boys and girls are trafficked within Mexico for the purposes of sexual exploitation. These victims are often lured from poor rural districts to urban and tourist districts. According to a recent report by ECPAT, Mexico has become the major sex tourism destination in the Americas. More than 16,000 children are estimated to be involved in the sex industry in the countrys popular tourist destinations of Acapulco, Cancun, Guadalajara and Tijuana. These cities have become magnets for sex tourists and pedophiles that prey on minors who have been trafficked to these areas. Read More >>
4. The Caribbean
Human trafficking is a major issue facing the Caribbean region. For example, in Haiti, an estimated 250,000 children80% of whom are girlshave been subjected to a system of domestic slavery termed restavA?k (a Creole word which means to one who stays with). As a consequence of the catastrophic earthquake in January, the number of persons who have been left vulnerable to exploitation has increased dramatically. Experts fear that the increase in children alone, whether separated from their families, or new orphans, or restavA?ks, who are now wandering the streets, will be absorbed by a culture that has looked on child servitude and child slavery as a normal part of life. Effectively, this increase the number of vulnerable children following the earthquake will result in a heightened demand. Read More >>
5. Brazil
Brazil has one of the worst child sex trafficking problems in the world. It also has a thriving sex tourism industry, with sex trafficking of Brazilian women occurring in every state and federal district of the country. Foreign tourists from Germany, Italy, and other European states increasingly come to Brazil for sex tourism. The age of consent in Brazil is 18; however, according to UN estimates 2 million young people under the age of 18 have been trafficked into prostitution. Read More >>
6. Germany & the Netherlands: Legalized Commercial Sex Trafficking
Some experts raise concerns that the legalization of prostitution is directly linked to the legitimization of commercial sex trafficking. They argue that the aggregate impact of legalization over the years in countries like Germany, the Netherlands, Australia, and other countries has been to create major hubs of demand for trafficked women and children. As discussed in a report produced by the Coalition Against Trafficking in Women (CATW), legalization implicitly supports the view that men need sex and are entitled to have it even if they have to purchase a womans body. CATW makes the argument that as a consequence of legalization, commercial sexual exploitation is normalized, and demand is increased. Although there has not yet been an evidence-based research to verify this hypothesis, a growing number of countries, including Sweden, Norway, Finland, Iceland, and the United States, are changing their laws to reflect concerns about legalization. Read More >>
7. Israel
At the start of the new century, Israel found itself with an unexpected and unwanted reputation as a destination hotspot for sex trafficking. In 2006, the United Nations named Israel as one of the worlds primary destinations for trafficked women. According to a Parliamentary Inquiry Committee report, between 3,000 and 5,000 women are smuggled into Israel annually where they are sold into the prostitution industry and subjected to continuous violence and abuse. Most of the women are from the former Soviet Union, especially Russia, Moldova, Ukraine, Belarus and Uzbekistan. Read More >>
8. Middle Eastern/Gulf States
The commercial sex industry is flourishing in the Middle East. Most notably, underground prostitution rings are a problem throughout the region. , Many of the Gulf States, including the United Arab Emirates, Kuwait, Bahrain, Qatar, Jordan, and Lebanon are significant hubs of demand. Indeed, the UAE has been dubbed the Center for Prostitution in the Middle East. Many women, mainly from small towns in the Former Soviet Union and China, are trafficked to Dubai to fill the large demand for illicit sex that has been created by the huge influx of largely male, expatriate workers from the East and West. Read More >>
9. South African 2010 World Cup
The World Cup, an international sporting event, attracts millions of spectators every four years. Events of this magnitude, where there is an influx of predominantly male fans, act as a magnet for commercial sex traffickers. In South Africa during the world Cup (June 11 July 11, 2010), traffickers brought in thousands of young women and girls to meet the inevitable surge in demand generated by over 2.4 million sports fans. Experts estimate that 40,000 women and children were transported into South Africa for purposes of commercial sexual exploitation, making South Africa a clear hub for demand. Read More >>
10. Brothels of India
Women and girls are trafficked both within India and into India from Nepal and Bangladesh and other neighboring countries. Huge red light districts holding thousands of women and children operate brothels offering girls as young as 9 and 10 for sale. Kamathipura in Mumbai, Sonagachi in Calcutta, Reshampura in Gwalior and Budhwar Peth in Puneall hold thousands of women, many of them in virtual captivity. Human Rights Watch estimates that over 15 million young women are trapped in prostitution. In Mumbai alone, over 100,000 are estimated to be in prostitution. Young women can live their whole lives in these brothels, have children (usually the offspring of their customers), and die there, often at an early age from HIV/AIDS and other diseases. Intergenerational exploitation is common. Read More >>
11. Sri Lanka: Beach Boy Sex Tourism
One of the main industries in Sri Lanka is tourism. Over half a million tourists arrive in Sri Lanka for the great climate, the beautiful countryside, and the beaches. However, there is an underbelly to this legitimate tourist industry: Sri Lanka has become a virtual haven for men seeking children to exploit for sex. Over two decades, the island developed a reputation for hosting European men interested in young boys. It is estimated there are over 5000 children trapped in prostitution in Sri Lanka today, most of them boys in the 7 to 16 age group. Read More >>
12. Cambodia: Pedophile Haven?
The Cambodian economy relies heavily on the tourist industry.This lush tropical land with its beautiful beaches and ancient temples attracts many vacationers.Tourism is good and legitimate tourism needs to be encouraged. Unfortunately, there is dark underbelly which has flourished over the last twenty years: child sex tourism. Cambodia has come to be known for its thriving sex industry, where child sexual exploitation runs rife, and authorities are easily bribed to look the other way; thus, predators and child traffickers alike act with impunity. Read More >>
13. China's One Child Policy: The Next Tsunami of Demand
Chinas one child policy has created severe gender imbalances where boys outnumber girls by a significant margin. Because of a long-standing preference for sons, parents have actively engaged in gender based selective abortions/feticide, abandonment, and infanticide. Consequently, many millions of girls are missing and experts estimate that in this generation alone, over 37 million men will not find partners. Experts fear that this will generate a demand for trafficked women and girls demand that will be met from countries like North Korea, Vietnam, Myanmar, Mongolia, Thailand and elsewhere. In some provinces in China, reports are already surfacing of young women and girls bought and sold multiple times, shared by many men in one village, and subjected to sexual exploitation, labor exploitation, and domestic servitude (sometimes a combination of all three). Read More >>