Available on Amazon- Modern Slavery: A Documentary and Reference Guide
January 25, 2019Comments are closed.
Modern Slavery: A Documentary and Reference Guide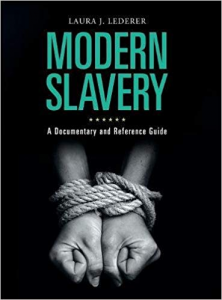 This book provides a sobering look at modern-day slavery―which includes sex trafficking, domestic servitude, and other forms of forced labor―and documents the development of the modern-day anti-slavery movement, from early survivor voices to grassroots activism, to the passage of U.S. and international anti-slavery laws.
Presents an accurate and comprehensive account of the size and scope of modern slavery in the United States and around the world
Uses primary source materials to illuminate efforts by human rights organizations, lawmakers, and slavery survivors to combat human trafficking and rescue millions of men, women, and children from lives of backbreaking labor, forced prostitution, and other forms of enslavement
Illustrates how early survivor voices catalyzed the new abolitionist movement―that the brave actions of a few have benefited thousands of victims of human trafficking
This valuable reference is available for purchase on Amazon.